elevatED Pole Level 1 Teacher Training
Is your class your students' favorite part of the week? How can you be the best for your students?
In the elevatED Level 1 Pole teacher training, you will learn how to cultivate a rich classroom experience your students will enjoy and appreciate. 
You will learn how to apply training secrets from dance, gymnastics, and yoga to your beginner class with 90+ dance movements, strength techniques, floor skills, climbs, dismounts, spins, and basic inversions.
Additional topics of study include:
How to set up a studio for maximum success: design, equipment, and appearance

Legalities and liabilities: client releases, incident reports, insurance information, equipment directories, maintenance forms and more

What you do and say matters: your conduct as an instructor

Cueing through verbal, non-verbal, and kinesthetic commands

The anatomy and biomechanics of pole dance fitness

The art of alignment and opposition

How to use anchor points and points of contact

Creating a balanced class plan

How to build a warm-up

Classroom problem solving

The art of progression: how to gradually increase demands on the body for safe and optimal advancement

The role of pre-engagement in strength building and injury prevention

How to guide your students towards creative thinking

Understanding how limb and lever lengths affect the difficulty of pole moves

Working with overweight clients
Training schedule
Day one: Get to know your group, receive your class materials, identify your goals for the weekend and learn how to create your ideal pole class. Your master trainer will lecture on subjects such as: equipment maintenance, creating an optimum classroom environment, body knowledge, alignment, muscle activation, and injury prevention.
Day two: Start the day with an elevatED warm-up. Your master trainer will continue lecturing on cueing, balancing a class, and progression. You will then participate in movement labs to refresh your verbal cueing skills. After, you will begin learning how to instruct body awareness, fluidity techniques, strength building techniques, climbs, and dismounts.
Day three: We begin day three with a master class. You master trainer will lead you through a sample level one pole dance fitness class so that you can experience the elevated format and philosophy in action. Continue learning classroom techniques such as spins, and basic on-and-off the pole inversions. Day three involves several movement labs. The first will help you further your verbal teaching skills as you learn to be specific, descriptive and imaginative. In the second, you will think creatively about creating unforgettable and transformative classroom experiences. 
At the end of the third day you take both a written and practical exam. Everyone receives a certificate of completion and a tank top. Scores are sent by email within a week after the training. 
Course materials
The manual:  The level 1 manual is a 230-page designed book with 100s of color photos.  The first 50 pages of the book are dedicated to explaining the elements of classroom excellence, studio design, sample liability forms, incident report forms, equipment maintenance logs, and more. 
Each of the 90+ techniques are explained in detail and accompanied by movement observation exercises, movement labs, teaching, cueing and alignment tips.
The manual serves as a workbook throughout the training and as a living resource  throughout your career to help you create the ideal curriculum and to get to know yourself as a teacher.
The BONUS Flash Drive: The custom elevatED flash drive has 10 close-up videos of each of the Level 1 techniques that has a physical spot. It will be your resource to refresh your spotting skills after the training.
To schedule a training, please email info@elevateducation.com.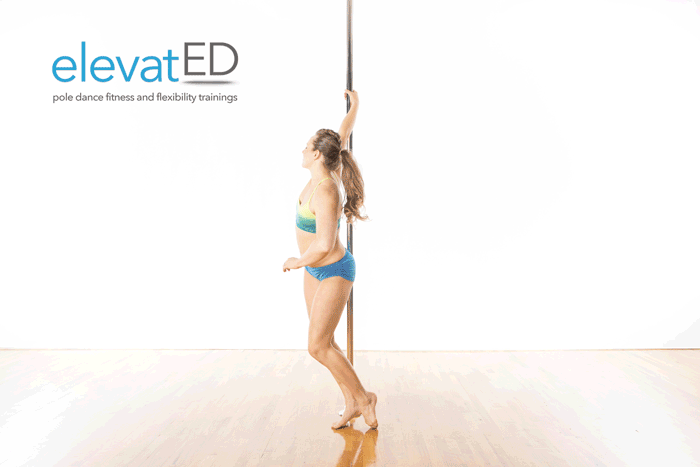 Upcoming Trainings
Pole Level 1 | 2017
Sport Dance Complex (Bordeaux, France)
December 1-3
noXcuse (Gent, Belgium)
December 8-10
Pole Level 1 | 2018
Brass Vixens (Toronto, Canada)
February 23-25
Phoenix Rising Dance + Fitness (Frederick, MD)
March 2-4
Body + Pole (NYC, NY)
March 12-14
Pole Palace (Portland, OR)
April 27-29
Polistic Fitness (Lansing, MI)
May 4-6
The Pole Room (Maui, HI)
May 25-27
Drehmoment Pole Aerial Dance (Berlin, Germany)
June 15-17
Pole Level 1 | Pricing
$899 USD Includes the two and a half day teacher training, the manual, and flash drive of spotting technique videos
$299 USD Manual only (includes flash drive of spotting videos)
$600 USD Training only (must purchase the manual at least 3 weeks before training to participate)
Important Information
Students can not participate in an elevatED training without the elevatED manual.
If paying for training and manual separately, you must order the manual at least 3 weeks before your scheduled training to assure receiving it on time.
If you purchased the training, manual and flash drive, you will receive the materials on the first day of training.
[/list]
Available Discounts
8-Week Early Bird – 15% Off Any Training
Purchase of Two Trainings – 20% Off
Purchase of Three Trainings – 30% Off
All purchases expire within one year.
Cannot combine Early Bird with other discounts.
To receive discount e-mail info@elevateducation.com.
[/list]
Related Projects